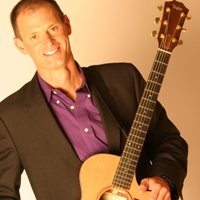 Mike Rayburn is a captivating keynote artist who has presented for many of the worlds' leading corporations. As an entertainer Mike received a standing ovation at his Carnegie Hall debut and was immediately asked back for 3 return engagements. He was also voted "America's Campus Entertainer of the Year" 3 times in 4 years. As an innovative business owner Mike has been featured in USA Today, Newsweek, Billboard, and Gig magazines. He is also an author, adventurer, philanthropist, husband and father.
Where to Use Mike Rayburn…
Opening or closing keynotes, after-dinner and award show presentations, anywhere your event needs to be entertained and energized!
Mike can easily focus his program completely on his musical entertainment, or…
Mike Rayburn uses his comedic songs, his amazing guitar creations, and a contagious zest for life to challenge audiences to leap beyond their perceived limitations. From start to finish they will laugh uproariously as they learn 3 effective tools and the ultimate reason for getting the most out of their lives and careers. Your audience will leave Mike's program rejuvenated and eager to take on new challenges.
Mike Rayburn's program is always based on a core of clean, universally appealing comedy and music.
Mike can tailor his message of purpose and possibility to address your organizations' specific needs or seamlessly weave your theme into his presentation.
Click Here to see video of his show